Iran President Rouhani to visit India on Feb 15, to discuss bilateral relations with PM Modi: MEA
During President Rouhani's visit, the MEA added, both sides would review the progress achieved in bilateral relations and also exchange views on regional and international issues of mutual interest.
Iran President Hassan Rouhani will pay a state visit to India at the invitation of Prime Minister Narendra Modi from February 15-17, 2018, said the Ministry of External Affairs (MEA) on Wednesday. During his visit, both sides would review the progress achieved in bilateral relations and also exchange views on regional and international issues of mutual interest, added MEA.
President Rouhani's visit to India will be significant because only last year in December, Iran launched the first phase of Chabahar port which holds strategic and economic importance for India. The Indian Express had reported on December 4, 2017 that the Chabahar port allows India to bypass Pakistan and reach land-locked Afghanistan and Central Asian countries. New Delhi views the Chabahar port project as a strategic response to China's development of the Gwadar port in Pakistan, and its aggressive pursuit of the Belt and Road Initiative. It is also key to accessing the Central Asian markets for Indian goods. EXPLAINED: How Chabahar Port could bring India and its partners a new spring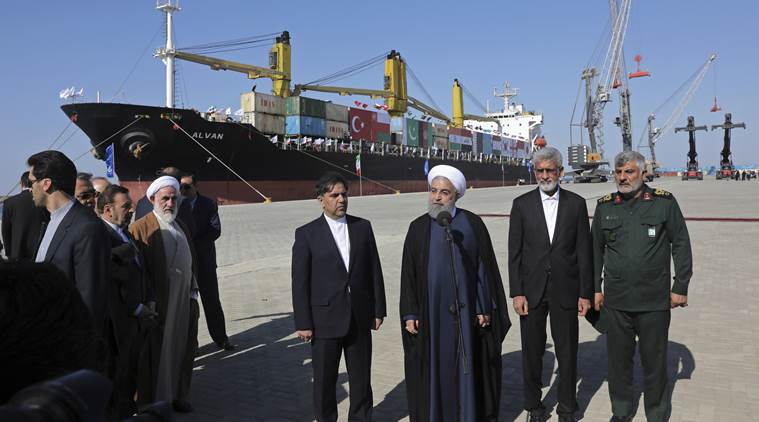 Iranian President Hassan Rouhani, center, speaks during the inauguration a newly built extension of the port of Chabahar, near the Pakistani border, on the Gulf of Oman, southeastern Iran, Sunday, Dec. 3, 2017.  (AP Photo/Ebrahim Noroozi)
During the launch ceremony, Rouhani had said that the inauguration marked a "historic" day for Iran, particularly for the people of Chabahar. He had also emphasised that the project was specifically important, given that it connects the trade corridors that pass through Iran to the sea route. "This port is also significant from the political point of view given that it connects Iran with its eastern and northern neighbours and at a later stage to European states," Rouhani said.
Last year in December, External Affairs Minister Sushma Swaraj made a stopover at Tehran on her way back from Russia, and held a luncheon meeting with Iranian counterpart Javad Zarif during which issues of mutual interest were discussed. Swaraj was returning from the Russian city of Sochi where she attended the annual summit of the Shanghai Cooperation Organisation (SCO). The two ministers are understood to have reviewed the implementation of the Chabahar port project in which India is a key partner. Also Read: Sushma Swaraj makes stopover at Tehran, discusses bilateral issues
In November last year, India had sent its first consignment of wheat to Afghanistan by sea through the Chabahar port in Iran, which was seen as a "landmark" move to operationalise a new strategic transit route among the three countries bypassing Pakistan. The port is likely to ramp up trade between India, Afghanistan and Iran in the wake of Pakistan denying transit access to New Delhi for trade with the two countries.
Your Opinion Counts !